PAC preview impresses endowment donors
Garrett College conducts 'hard hat' tours of Performing Arts Center
Garrett College officials conducted a pair of "hard hat" tours of the Performing Arts Center at Garrett College on May 18th.
The tours were comprised of major donors who have reserved naming rights on either rooms or spaces in the PAC as part of to the Garrett College Foundation's PAC endowment campaign. The campaign is aiming to raise $2.5 million for the endowment to generate operations income for the center, which will open later this summer.
The two tours were led by Kathy Meagher, Garrett College's director of campus facilities and security, as well as the project manager for the $21 million project. Donors in attendance left impressed with the facility.
"I think it goes beyond expectations," said First United Bank & Trust President Carissa Rodeheaver, who also serves as vice chair of the Garrett College Foundation (GCF) Board of Directors. "The community has waited a long time for this type of facility. It's an exciting opportunity for Garrett County."
"It's incredible in its versatility," said donor Walt Malecki, who also serves as GCF treasurer. "It's going to be an extremely impressive asset for the entire community."
Meagher said the center's versatility was intentional.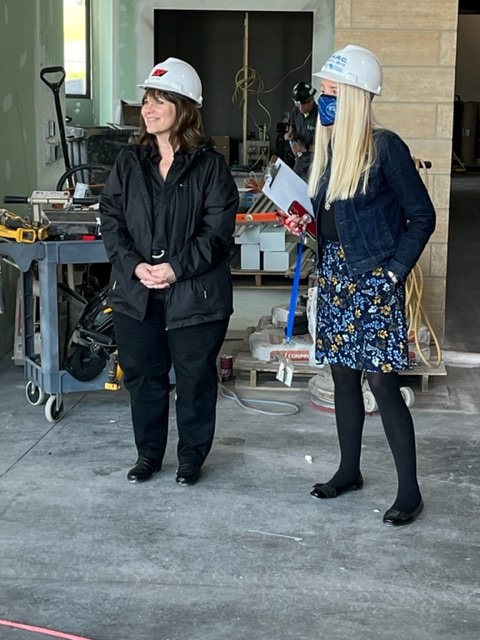 First United Bank & Trust President and CEO Carissa Rodeheaver, left, and Garrett College Foundation Executive Director Cherie Krug stand in the Performing Arts Center lobby as project manager Kathy Meagher conducts a PAC tour.
"Flexibility was one of our design goals," Meagher told one of the tour groups. "Every space has multiple uses. Emphasizing that versatility was one of my takeaways from the research I did at the beginning of the project."
Meagher said the project also benefited from attracting DLR to serve as the architect for the project.
"Performing arts centers is all they do," noted Meagher, who said that expertise was critical in plan development.
While Garrett College is responsible for managing the facility, the College is just one of five  founding PAC partners.  Garrett County Government, Garrett County Public Schools, Garrett Lakes Arts Festival, and Garrett County Arts Council are the other founding partners.
"We knew from the outset that building a strong set of partners was critical to the long-term success of this initiative," said Dr. Richard Midcap, Garrett College's president. "And I don't think we could ask for a stronger partnership group than the one we've built."
Garrett College Foundation Executive Director Cherie Krug noted there is still time for potential donors to contribute before the endowment campaign closes later this year. Krug said she is confident the campaign will attain its $2.5 million goal.
"The outpouring of community generosity has been just amazing," said Krug. "The community has really gotten behind this campaign."